About us
Mark has been training in martial arts most of his life. Mark began training again in 2006 with his son Aidan at Power of Won Shotokan Karate, he earned his Shodan (1st degree black belt) in 2011 during a long hard 12 hour grading, thankfully they are not like that anymore. In 2013 Mark earned his Nidan (2nd degree black belt) . At the end of 2014 he was promoted to Power of Won Sandan (3rd Degree black belt).

In 2013 to further his study of Shotokan karate he started training under the direct instruction of Shihan (master) Takaatsu Nishimura 7th Dan JKA. Mark now also holds the rank of JKA Sandan, 3nd degree Black belt. Mark feels very privileged and honoured to pass on my knowledge on to his students.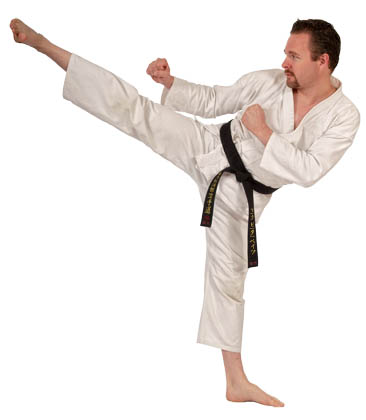 Images from my training.
Because I'm a professional photographer It's rare I ever end up in photos, but here is a few I have managed to find.
Training with the JKAA 2014 - Mawashi Geri
Training drills with the JKAA at Preston Dojo. I'm on the right.
Rare tournament photo, I think my good friend Brendan from ASSK must have picked up my camera and taken a photo.

I was not born with my black belts, like many of you I was once a colored (kyu) belts. This picture goes back a few too many years when i was a brown belt this was taken after a hard training session. I'm standing with my son Aidan and daughter Paige who are almost as tall as me now.

Very rare photo of me (because I'm usually the one taking the photos) as a 4th Kyu blue belt (JKA Purple belt) receiving my brown belt 3rd Kyu.

Sensei Michael after presenting my 1st Dan (Shodan) black belt.

Myself and Daniel at our 2nd Dan with Catlin 1st Dan after our presentation holding our certificates.
Original group of black belts I training with over the years at Power of Won, not many of us left training now.
About

JKA Australia Inc

- Shotokan Karate
JKA Australia South Inc. was incorporated on 27th October 2010 and on 19th, January 2012 was renamed Japan Karate Association (JKA) Australia Inc. JKAA teaches traditional Shotokan style karate. Shotokan karate is a non aggressive self defence martial art. Our instructors are certified by JKA HQ. The purpose of JKAA is to develop and promote JKA Shotokan karate in Australia. The standards taught are of the highest level in keeping with the technical requirements set by JKA HQ.

Our goal is to maintain these standards, to grow and to help all our students achieve their personal goals and aspirations.

Karate helps develop strength, coordination and agility and can be practiced at any time and in any place, for any length of time by men, women and children. It requires no special equipment. Karate fosters the development of spiritual qualities: courage, courtesy, integrity, humility and self control.